Kitchen Fitting Solihull really shouldn't be a frustrating process! Is your kitchen becoming old, outdated, and a pale imitation of its past self? One Team Construction in Solihull can help you change your current kitchen into something spectacular. Creating an entirely new kitchen or fixing up an existing one can be a frightening process for many people, but it doesn't have to be if you hire us to install your new kitchen, or improve your old one.
One Team Construction is the company to call when you need that new kitchen installed in Solihull. Because of our extensive expertise in project management and home renovation services, we take the stress out of selecting numerous contractors that are around and about, all with varying reputations. Our skilled team is dedicated to providing excellent fitted kitchens in Solihull, ensuring a prompt and efficient completion of your project and leaving you with a beautifully designed workspace.
Fitted Kitchen Designs for

Solihull Kitchens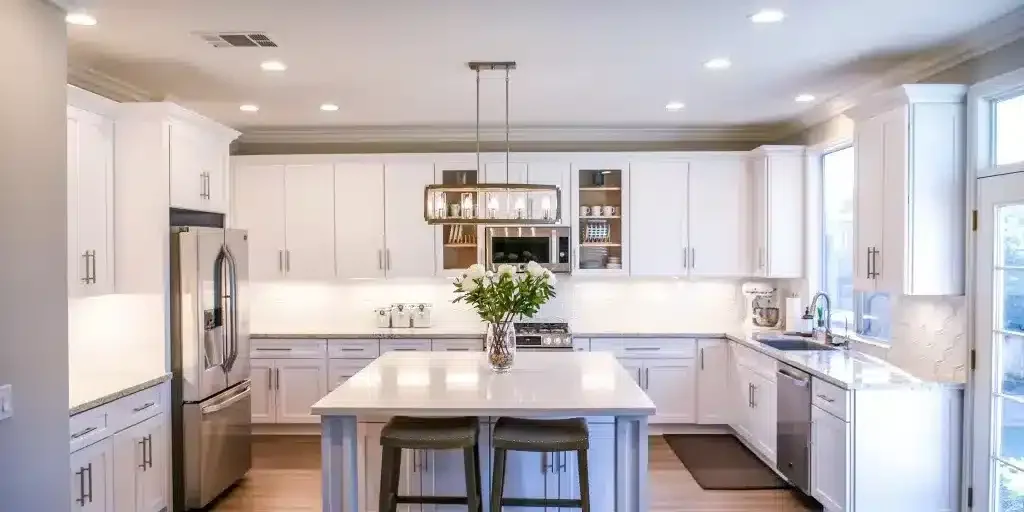 Enter the world of modern kitchens, where sleek and minimalistic designs reign supreme. Clean lines combine with a neutral colour palette to produce a seamless canvas that exudes modern elegance. The material interaction is brought to life, with stainless steel and glass components adding a refined touch. Yet it's not only about appearances; modern kitchens seamlessly combine beauty and utility. Explore how smart equipment and cutting-edge equipment can be utilised to make food preparation easier. Our modern kitchen makeovers will exceed your expectations if you prefer areas that are both simple and imaginative.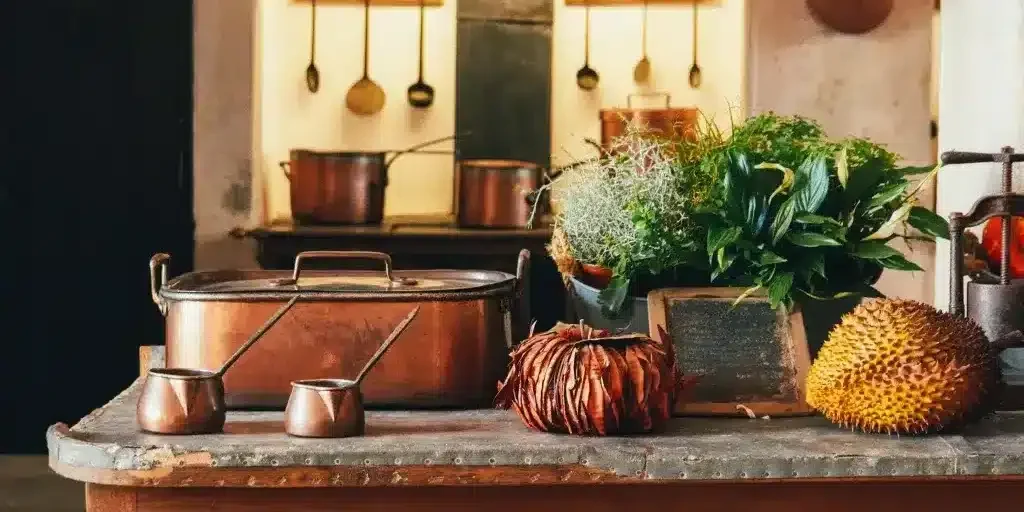 Go through the world of traditional kitchens. Every detail evokes the grandeur of bygone eras in these rooms, which are a tribute to tradition. Ornate cabinetry reveals craftsmanship, while warm colour palettes hug the space in a loving embrace. The story is truly told through the delicate decorative pieces that add a touch of refinement to every room. Natural features, such as rich wood, find a place in this kitchen, connecting it to its roots. If the allure of history and craftsmanship enchants you, our traditional kitchen fitting Solihull conversions are designed to bring those stories to life in the comfort of your own home. To learn more, why not contact us?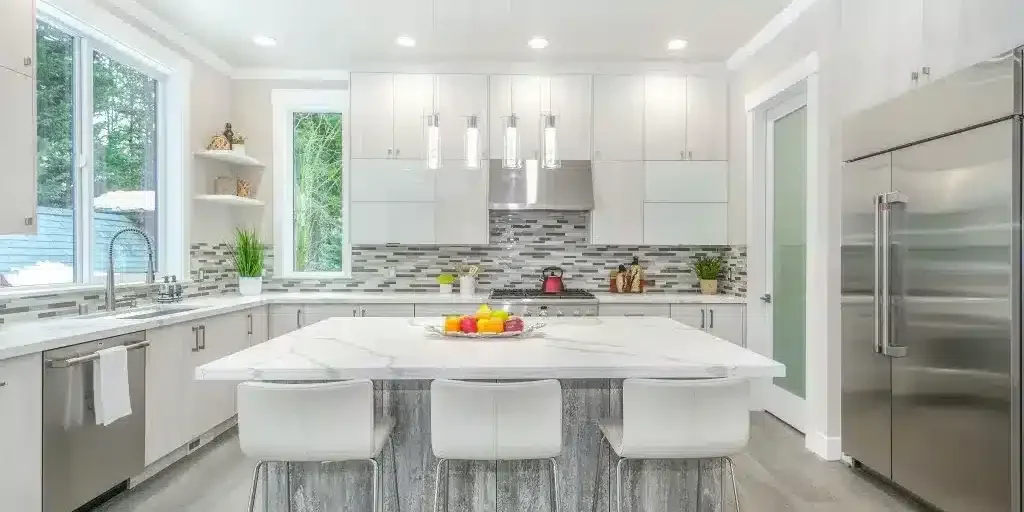 With our slab kitchens and current tiling knowledge, you can enter the domain of refinement, where sleek and clean design makes an appearance, producing an aesthetic of flawless surfaces that breathes modern beauty. The major attraction for kitchen fitting Solihull is the large slabs of gorgeous materials such as marble, quartz, or granite masterfully carved into countertops and backsplashes. Its seamless integration not only creates a visual beauty, but also exhibits accuracy and expertise. Every inch of these locations exudes a clean and attractive style that embraces the spirit of elegance. If the promise of seamless design and timeless elegance appeals to you, our slab kitchen conversions are ready to enhance your culinary sanctuary.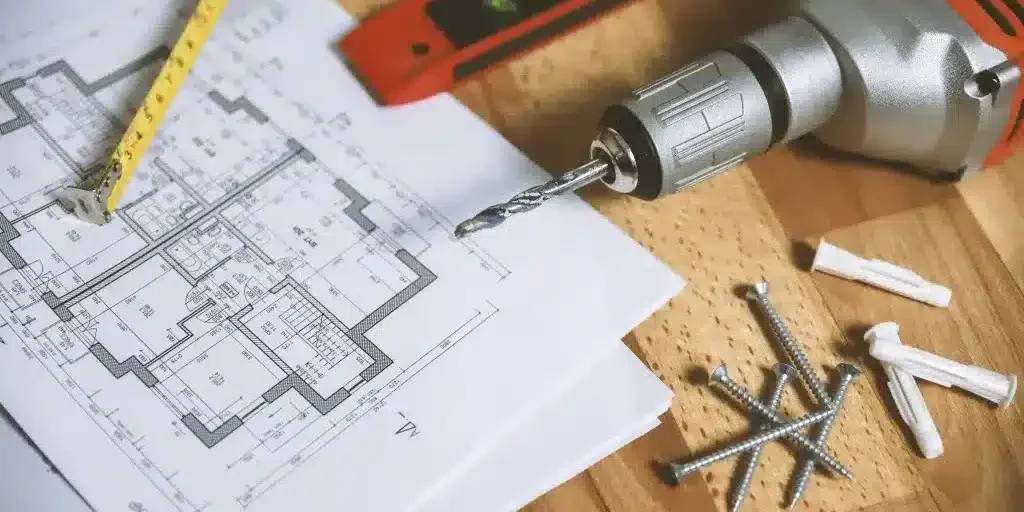 You can rely on us every step of the way when it comes to fitted kitchens in Solihull. One Team Construction specialises in renovating your complete household, not just the kitchen! This means we can collaborate with you to design and build the ideal kitchen to fulfil your specific requirements. Additionally, because we have the expertise to project manage everything every stage of the way, you won't have to worry about a single aspect of the process. Doesn't it seem like a sweet deal? We feel the same way. Since our beginning, we have operated as a leading professional construction services firm, and we continue to fuel ourselves on our dedication to quality. We will unquestionably go the extra mile to achieve the results your kitchen needs. Contact us today to find out more!
See Our Previous

Solihull Kitchen Work
About

One Team Construction
At One Team Construction, we can provide you with a comprehensive kitchen fitting service that includes everything. From the preliminary design through the final installation. Our trained tradespeople include plumbers, electricians, tilers, plasterers, and carpenters, allowing you to relax knowing that every part of your kitchen installation is in competent hands.
Every kitchen is unique, as we all know. As a result, regardless of your taste or budget, we have a number of style options for you. Do you fancy a contemporary, minimalist appearance? Or perhaps a more traditional presence? We'll collaborate with you to create the ultimate home kitchen. We also believe that effective communication is critical to the success of any kitchen remodelling project. One Team Construction will work closely with you throughout the process to keep you informed and involved at all stages. This strategy guarantees that the final output is exactly what you planned.
One Team Construction can provide and install all you need. As you can see, we offer services such as kitchen fitting Solihull, removals, kitchen design, plumbing and gas and more. We can also do electrical work, tiling, plastering, and carpentry for your kitchen because we specialise in many services. There is no need for a major disruption, as some kitchen renovations may indeed be; save the time and stress of locating all of the tradesmen you need. We can work with you to complete everything as soon and effectively as possible!
Got Any

Kitchen Fitting Questions?
Absolutely! One Team Construction are a specialist home renovation and kitchen fitting company, meaning that we can arrange to have your plumbing installed at a high quality, professional level alongside the rest of the kitchen installation and / or removal.
Yes we do. We supply everything you will need for your kitchen renovation in Solihull. One Team Construction offers extensive project management services alongside the process of being able to install your new kitchen, meaning less stress for you, and a quicker more efficient installation of your Solihull kitchen.